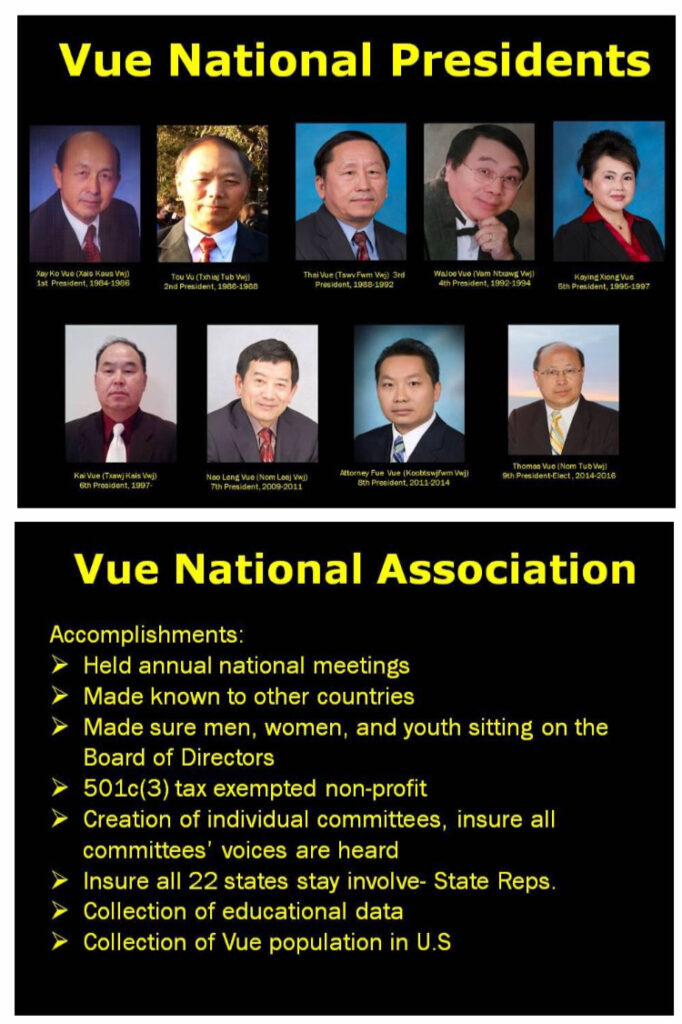 Vue National Association (formally known as Vue Family) evolved from Fresno California when the Hmong settle in the United States in the early 1980's. With little knowledge, education and the introduction to the western world, the organization arise to secured the Vue family as an insurance to fill the gap of funeral cost. As society changes, demand also changes along with further ideas.
Later, Vue family was restructured and incorporated as a legal entity 501 c (3) nonprofit organization. Bylaws were written, exemptions were filed and VNA were recognized throughout.
Ever since then VNA has been serving our family in many events such as meetings, workshops, fundraising, reunions and other beneficial activities.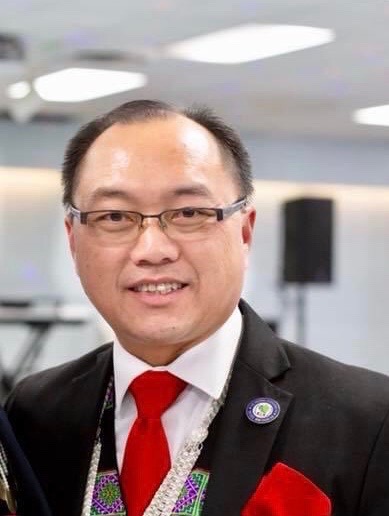 Adam Zoov Looj Vue – 10th VNA President. 2017-2019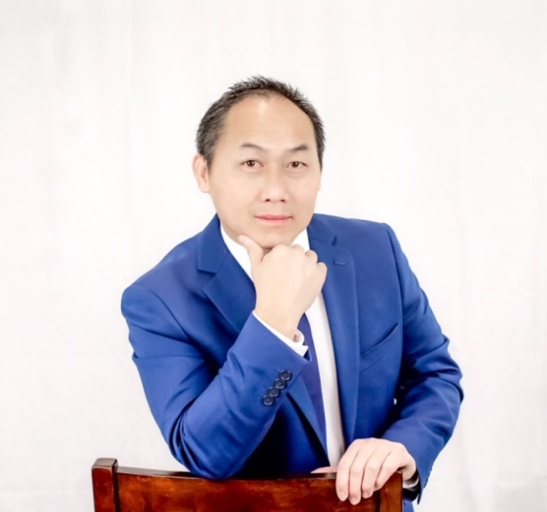 My name is Nao Doua Calvyn Vue or known as Doua Vue as my birth name when I was single to my peers, family and locally in the state of Michigan. I added Calvyn as my middle initial name when I became a citizenship in 1995. Nao was given to me by my father in law when I celebrated my senior name. Those years have passed and today many people known me as Nao Doua Vue.
My parents were forced to give up everything and risk their lives to make the dangerous trip to Thailand in 1979, so we as the children could and would have a better lives. Somehow they knew this was the only way for all of us to succeed. I arrived in Lansing, Michigan along with my parents and two sibling brothers in the late summer of 1981. We were sponsored to Lansing Michigan due to my eldest sister and immediate family. As we lived in America, I was fortunate to have another sister and brother along the way. Today, I am blessed to have 2 sisters and 3 brothers whom all resides within an hour away.
Even though I wasn't born here in United States, I was given the opportunity to start school in kindergarten and was raised up as a typical western boy. School was tough, especially learning English as a second language. I would spend extra time studying for test and exams. I graduate high school in 1993 and didn't hesitate to start college (Lansing Community College) the next fall. Not knowing what to study and due to financially, I managed to graduate with an Associates in Arts in general education in 1996. That same year I decided to continue my education by attending Grand Valley State University, which is an hour away in Allendale Michigan. My strengths were mathematics and science and I was enrolled in an engineering co-op program at the college. In 1998 I graduated the program with a degree in Bachelor of Science in Mechanical Engineering (BSME). I started working the following year and ever since then I was employed with Dart/Solo Corporation of Michigan. I started out as an associate engineering, project engineering, and moving onto project analyst.
My personal and previous relationship as a volunteer and servicing the community is a professional ethics. With years of experience serving both at the local and state levels, I admired the sympathy for the community and our Hmong family. Especially in the Hmong community, if I could provide, direct or assist them in any ways, it is well worth it! Helping one another or a group is what challenges me simultaneously as my ambition is substantial. For 17 years, I've learned and achieved valuable experience in assisting and supporting the district communities. I believe coming together and uniting as one is the ultimate objective. Once united, ideas, thoughts and strategy could be sought and share as a network to promote and better our lives. I have been involved in numerous meetings, social gatherings, deadline projects, research and proposals. I have experienced in organization leadership, discussion, fundraising, event chairman as well as public speaker.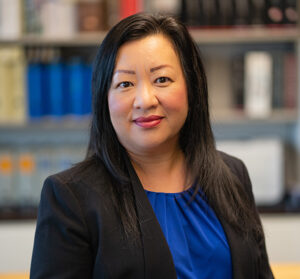 Dr. Pafoua (Pam) Her

Vice Chairman
Dr. Pafoua Her has a PhD in Business/Organizational Management from Capella University, an MBA (Organizational Management) from Everest University, and a BA in Business Administration and Marketing from Lakeland College. Dr. Her is currently the owner of 4Chi Business Solutions LLC and a consultant/trainer to several major corporations, government agencies, and non-profit groups in the areas of cultural competency, strategic planning, project management, and organizational development. She is also an Adjunct Professor with Rasmussen College in the School of Business and has taught classes in the areas of Management, Marketing, Entrepreneurship, Business Ethics, Sales, and Professional Communication.
Her previous leadership experiences include; District Team Leader for SEEK Careers & Staffing, Executive Manager for Bergstrom Corporation, Program Administrator for the Fair Housing Council of Northeast Wisconsin; Regional Manager for Wells Fargo Mortgage, Intercultural Relations Coordinator for the City of Appleton, Mediator/Facilitator for the Department of Justice in Washington, D.C., and Consultant/Trainer to various organizations on issues such as working with diverse clients, community organizing, conflict resolution, consensus building, and integration of services.
Dr. Her is currently on the board of directors for CAP Services and NEW Hmong Professionals and a member of the Outagamie County Health & Human Services Board. Her past community service includes serving on the board of directors for United Hmong American Association, United Way Fox Cities, American Red Cross-Outagamie County,
Fox Valley Literacy Council, the Fox Cities Community Foundation, BABES Respite and Counseling and advisor to the Hmong 18 Council of Wisconsin.
She has also acted as an advisor to the Wisconsin State Supreme Court on cultural sensitivity and interpreters in judicial proceedings as well as NEW North, an economic development organization for Northeast Wisconsin, on recruiting and retaining diverse talent.
Dr. Her has given over 300 presentations, workshops and keynote addresses on organizational management & restructuring, intercultural communications, diversity & inclusion, white privilege, microaggressions and unconscious bias, leadership, maximizing a diverse workforce, double consciousness, Hmong culture & history, Hmong mental health and interpreting issues, Hmong and the legal system, and integrating Hmong employees into the workplace.
Dr. Her has also won numerous awards such as the Rasmussen College Exceptional Educator Award, Dr. Martin Luther King, Jr. Unity in Diversity Award, and Wisconsin Community Action Program's Exceptional Volunteer Advocate Award. She was also a nominee for the 2018 Hmong Wisconsin Chamber of Commerce's Professional of the Year
Award.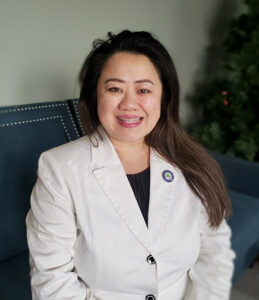 Shoua Xiong Vue

Treasusrer
Nyob Zoo! My name is Shoua Yang Vue. I currently reside in Lansing, Michigan. I have been married to my husband Nyiaj Hwm Vwj for 22 years and have three children.
My desired goal in life was to become a nurse and make a difference in the life of others. With great determination, I received my Registered Nurse License in 2004.  I have been an RN for 16 years now. However, I just recently decided that I am going to put nursing aside to dive deeper into the oral field. My goal for the next couple of years is to become a Registered Dental Hygienist.
Serving my fellow Hmong community has been nothing but rewarding. My husband and I had the honor and privilege of serving our Vue family here in Michigan as Vice President for the term spanning 2015-2019; we have learned and grown so much from this experience!
I am currently the treasurer for this wonderful organization for the years 2020-2024. I am honored to be a part of this team and look forward to meeting and getting to know all my Vue families across the nation.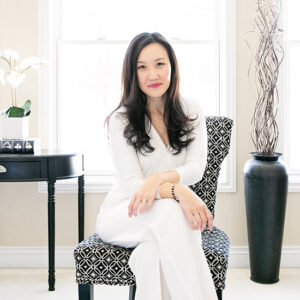 Sandra Vue

Economic Development
Sandra Vue is a certified public accountant and she received her Masters degree in Business Administration with a focus in Finance.  She has worked with and for several Fortune 500 companies and is well versed in reviewing and compiling financial statements.  Sandra currently resides in Michigan with her husband and three children.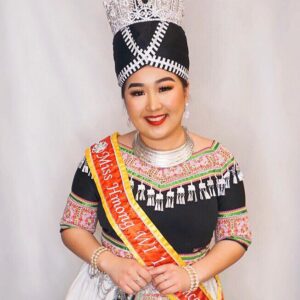 Kabao Bai Vue

Director of Youth
My name is Kabao Bai Vue and I am 21 years old. I was born and raised in La Crosse, Wisconsin with my seven brothers and loving parents, Chao Vue and Neng Vang. I currently attend college at Western Technical College. I was in the Medical Administrative Professional Program but now I am in the Foundations of Teaching Education Program because I have a passion for teaching and working with children. I work at Riverview Home Healthcare and as a Dance Coordinator at the La Crosse Hmong Cultural and Community Agency. In 2017, I placed first in Green Bay, Wisconsin holding the Title as Miss Hmong America 2018 bringing home all awards such as Miss Congeniality, Most Talented, and Miss Hmong America 2018. Last year, I also competed in Milwaukee, Wisconsin coming in second place taking on the role of Miss Hmong Wisconsin First Princess 2020. I am glad to have been chosen as one of the Board of Directors representing the Youth and I'm looking forward to working with the team.
Dr. Kaonou Hang-Vue

Director of Woman's Affairs
Dr. Kaonou Hang-Vue recently received her Doctor of Medicine and also holds a Master in Oriental Medicine. She currently works in the medical concierge department at a large dermatology clinic. Kaonou lives in Wisconsin with her husband and two children.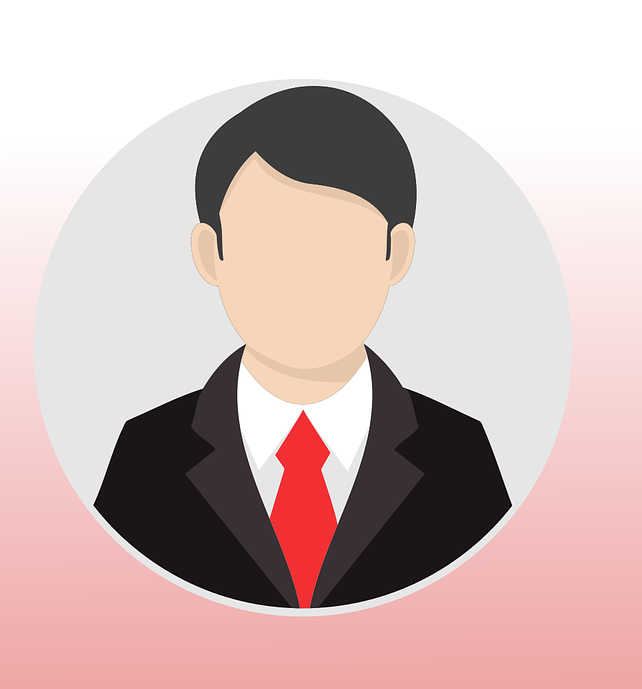 Ben H. Vue

Director of Economic
My name is Ben Her Vue. I'm 53 years old, married to my beautiful wife May Vang, for 30 years. We have three children — Andrew, 24; Jasmine, 21; and Kaylee, 13. I was born in Laos in Nam Hong near Mouang Mo, to Galong Vue and Xia Xiong. I have three older brothers — Tong Bee Vue in Fresno, Nhia Lue Vue in Maplewood, MN; and Blia Tong Vue in Ohio; and three sisters — Youa (Niam Tswv Looj Thoj) in St. Paul, Xao (Niam Nyiaj Huas Xyooj) in Laos, and Yer who died at a young age in Laos. My parents passed away in Laos when I was young, so my older brothers raised me.
My family escaped political persecution in Laos in 1978. One night we sneaked to the bank of Mekong River on the side of Laos. We tied two plastic bags around our waists to help us float, then my two brothers (Tong Bee and Blia Tong) swam across the raging Mekong River in the dark, with me, brother Nhia Lue, my infant nephew Xiong and sister-in-law Zoua Yang tied to a rope floating behind them. I remember swallowing so much water, fighting for my life as I didn't know how to swim — I still don't swim today. It was a miracle that we made to Thailand and faced the uncertain future. We endured extreme poverty and hardship in Nongkai and Vinai refugee camps for two years before we immigrated to America in 1979. I was 13 years old and spoke no English at all. I still don't know how I managed to survive all those years.
I've been living in Fresno, CA since 1982. In 1990, I received my BS degree in Business Administration (Management) from California State University, Fresno. My wife, the oldest of nine children, also graduated from Fresno State with her BA & MA degrees in Liberal Studies and Administration & Leadership, respectively. We were first members in our respective family to obtain college degrees.
I am an entrepreneur building a successful insurance business for the last 13 years, specializing in generational wealth transferring that includes life insurance, annuities and retirement plans. For over ten years, my associates and I were able to help 20,000 clients place an estimated $2 billion in life insurance coverage. My wife, who is also involved in my business, is a veteran teacher for Clovis Unified School District for 24 years.
1. Adam Zoov Looj Vue – former VNA President, Minnesota
2. Attorney Kongchuefue Vue, former VNA President, Minnesota
3. Wa Chao Vue – former MI President, Michigan
4. Tswv Thoj Vue –  Michigan
5. Tswv Fwm Vue – former VNA President, Wisconson